Contributing Author: Caitlin Gibson
Nothing warms up a cool fall day like a bowl of delicious soup. Soups are easy to prepare for family and friends, and a great way of welcoming the new season to your lake house. These fall soup recipes are easy to make with ingredients such as creamy red peppers or hearty wild rice.
Rich, Roasted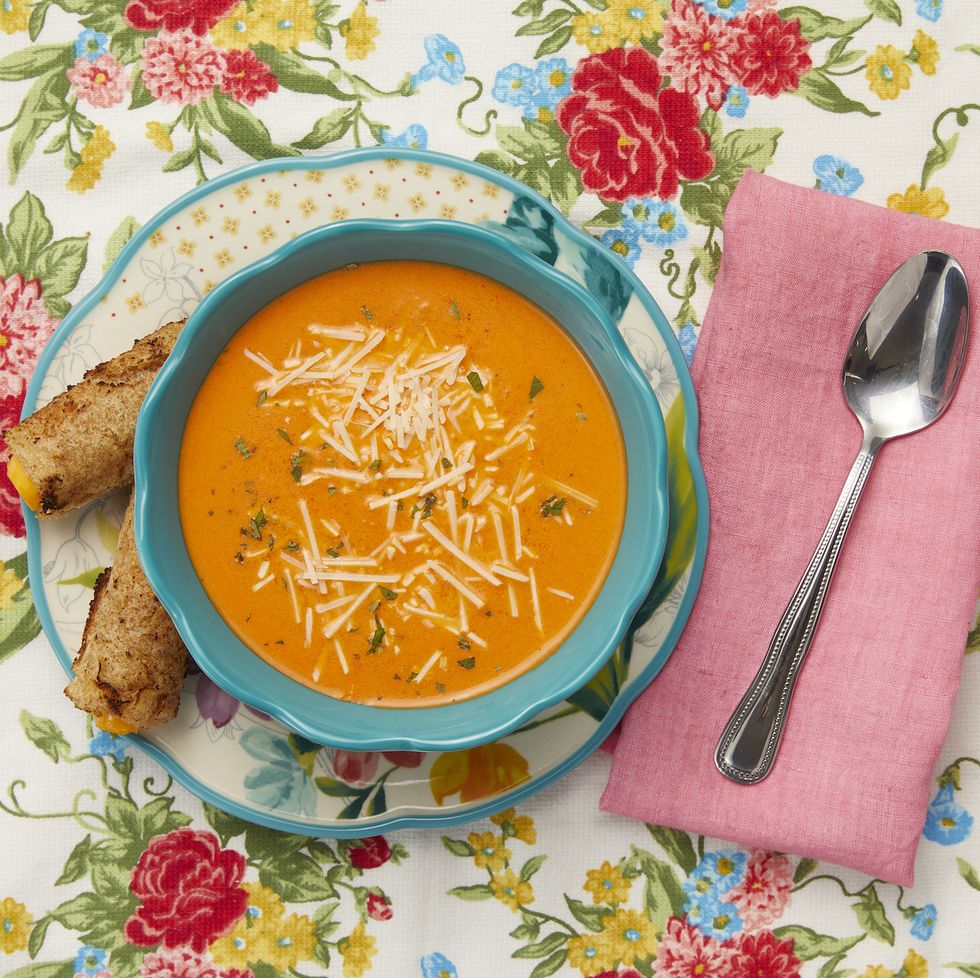 This smooth, rich soup is a hit for fall. It's made with delicious red peppers and topped with heavy cream. Pioneer Woman's Creamy Roasted Red Pepper Soup can be enjoyed by itself or with some toasty parmesan breadsticks.
2 tbsp. olive oil
2 tablespoon Butter
1 chopped yellow onions
3 cloves garlic. minced oregano
1 russet potatoes, peeled (optional),
2 16oz. jars of roasted red bell peppers, drained, and sliced
1tbsp. tomato paste
1/2 cups white wine
4 1/2 cups vegetable stock
1/2 cup heavy cream
1 1 tbsp red wine vinegar
1/2 tsp. black pepper
Instructions:
Heat butter and olive oil in a Dutch oven over medium heat. Add the garlic, onions, and oregano. Cook for three minutes. Cook for 3 minutes. Add the potato, red peppers, and cook for 3 more minutes. Mix in the tomato paste. Cook for 2 minutes. Salt and pepper to taste. Turn the heat up until it reaches medium-high. Bring to a gentle boil the red wine and stock. Let potatoes simmer for a few minutes. Blend the mixture and then add cream and red wine vinegar. Garnish with grated Parmesan.
Wild
Photo Credit to Gimme Some Oven
6 cups vegetable or chicken stock
1 cup uncooked wild rice
8 oz. baby bella mushrooms, sliced
4 garlic cloves, minced
2 medium carrots, diced
1 rib celery, diced
1 large sweet potato, peeled and diced
1 small white onion, peeled and diced
1 bay leaf
1 1/2 tbsp Old Bay seasoning
1 can of unsweetened coconut milk
2 large handfuls of kale, chopped without stems
Salt and pepper, to taste
Instructions
:In an Instant Pot pressure cooker, combine vegetable stock, wild rice, mushrooms, garlic, carrots, celery, sweet potato, onion, bay leaf, and Old Bay seasoning. Cook at high pressure for 25 minutes. Then let the pressure release naturally for 10 minutes. After releasing any pressure remaining, remove the bay leaf and open the lid. Mix in the coconut milk and kale. Season with salt and pepper. Serve warm. Gimme Some Oven has many other recipes.
Savory
Photo Credit to Pioneer Woman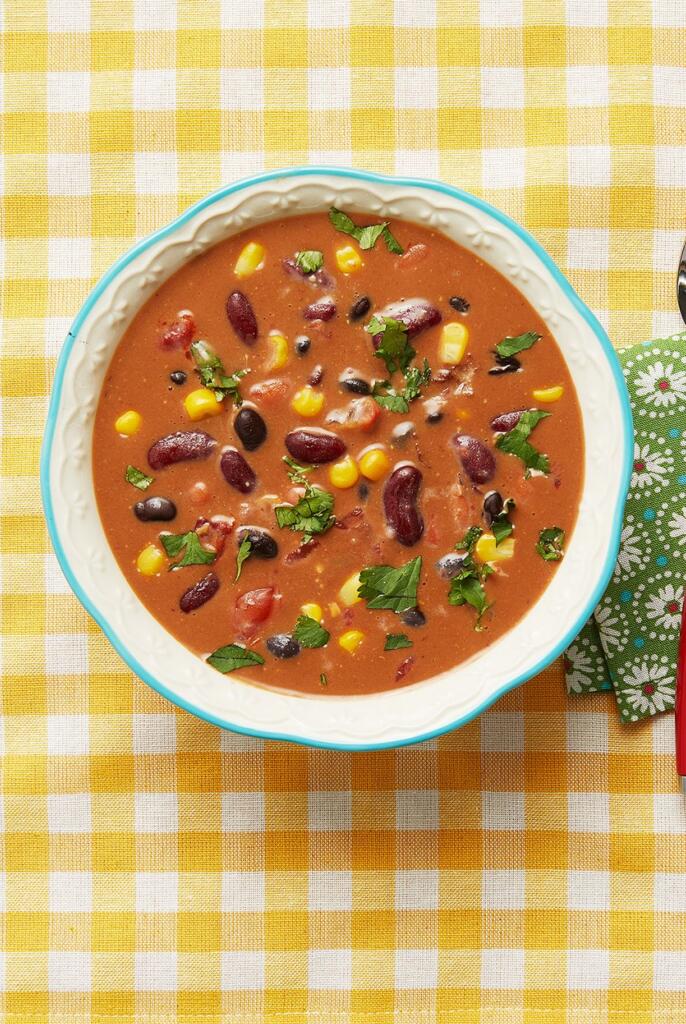 1Ingredients are:
1 Can meat-only chili
1can of kidney beans
1can of pinto beans
1can of black beans
1can of diced tomatoes
1can corn
1can Rotel
10Salt, pepper, to your taste
8 oz. Velveeta, cubed
Instructions:
Without draining, empty all the cans into a large pot over high heat. Bring to a boil. Reduce heat and simmer for about 10-15 minutes. Salt and pepper to taste. Mix the cheese into the soup until it is melted. Serve hot and fresh.
Classic and Cozy
Photo Courtesy of Food Network
Kosher salt, to taste
8 oz. Lasagna noodles, cut into pieces
1 Tbsp. Extra-virgin olive Oil
1 Onion, chopped
1/2 pound Hot or Sweet Italian Sausage, with casings removed
3 Garlic cloves, chopped
1 Tsp. dried oregano
1 teaspoon tomato paste
4 cups low-sodium chicken broth
1 can crushed or diced tomatoes
1/2 cup chopped basil
1/3 cup grated parmesan cheese
1/4 cup heavy cream
Instructions:
Bring a large pan of water to a boil and add noodles. Drain and drizzle with olive oils. Heat 1 tbsp olive oil in a Dutch oven. Heat 1 tbsp olive oil on medium heat. After softening the onion, add the sausage, garlic and oregano. Continue to break up the sausage until it is browned. Mix in tomato paste until darkened. Mix in broth, tomatoes, one cup water, and cook for 10 minutes. Bring to a boil, then cover and let simmer for 10 minutes. Add the noodles, basil, parmesan and heavy cream and stir. Serve with ricotta, basil and hearty at Home
Photo Courtesy of Taste of Home
It is hard to picture fall without a bowl of chili. This Autumn Chili is perfect for cold days as the leaves turn from green to golden. This soup is a fan favorite for fall. It's rich in flavor and has savory seasonings.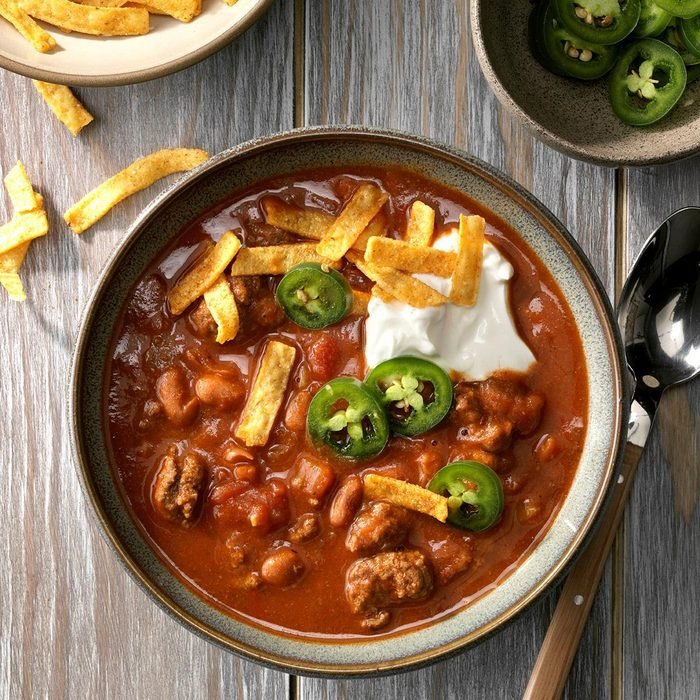 1 chopped onion
2 cans chopped tomatoes
2 cans kidney beans, undrained
2 cups cooked ground beef
1 can tomato paste
1 medium green pepper
3 1 tbsp. chili powder
1 teaspoon Ground cumin
2 garlic cloves minced
1 Baking cocoa
1 Tsp. dried oregano
Salt and pepper, to taste
Instructions:
In a large saucepan with cooking spray, saute the onion until soft. Add the rest of the ingredients and bring to boil. Cover the saucepan and let it simmer on low heat for 2 hours. Stir occasionally. Serve with cheese or sour cream.
Now, you have easy and delicious recipes to share with your family and friends for holiday events. You can also enjoy fall's beautiful lake life by making some delicious soups to warm you up while you take in the view.