First time I ate at Seville
I arrived in Seville after a 6 week-long interrailing trip back in 2012. It was July, and temperatures were already in the 30's. It was so hot that I couldn't move about the city during the day. My private room was air-conditioned and I was able to sleep in peace while backpackers were wasting their time at the rooftop swimming pool. I was exhausted, both emotionally and physically. Too many drinking nights and constant stress of moving every 2-3 day meant that I couldn't even look at another drink or talk to anyone. Because of heat exhaustion and heat, I didn't see any of the Seville sights over the three days. Only two times did I venture out of my room were in the afternoon and at night to find something to eat. Even though I was exhausted and happy to stay in my room, it was a great experience to go to a tapas restaurant in Seville for the first time. Although I'd been to Barcelona and Valencia, I was familiar with the tapas bars in Seville. I enjoyed some great food at these places. It was amazing to see the variety of colorful dishes displayed on this broad counter. People just pointed at what they wanted and ate it. It felt like eating at your grandmother's-everything I chose and ate was delicious. I was unable to stop eating between dishes. The small plates of food were fast and plentiful and I just kept going. It was like I was in a trance. I only realized what I had just experienced when I saw the light. It was then that I realized how important food is in travel. It was this trip that I realized that less is better when it comes to traveling and that gave me the desire to slow down. The next day, I promised myself that I would return to Seville one day and only focus on one thing: eat. It took me seven years to fulfill that promise, but I returned for a week. Then I went back for two weeks the next year. This was not enough. It might take us both a lifetime just to see all that Seville has to offer, considering there are nearly 3000 tapas bars. You probably don't have that luxury so I decided to share some of my favorite places with you in the form a self-guided walking tour. It is possible to eat out and visit all of the below places in a single weekend, but that depends on your time commitment. El Arenal's prosperity dates back to 16th-century Seville, when boats loaded with gold or silver arrived from the Indies for repair.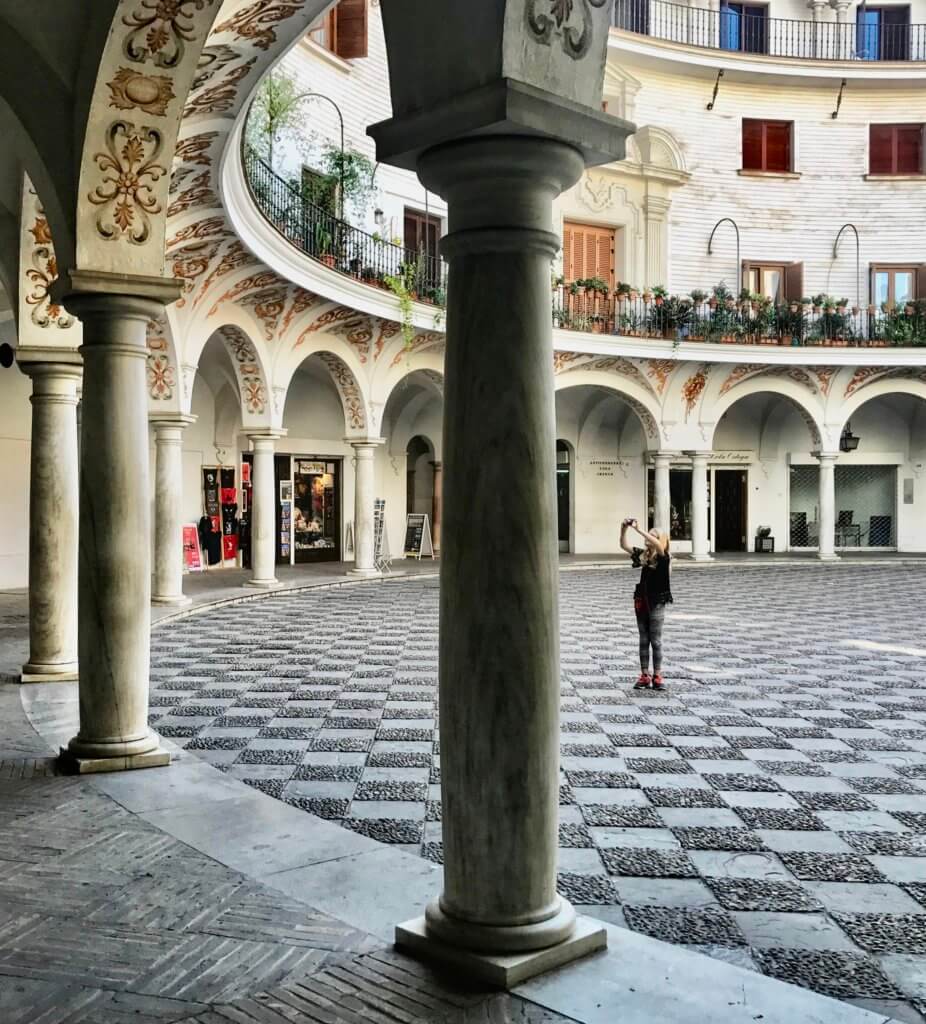 Mercardo Del Arenal
is the first port of call. Created in 1947 the mercado, formerly the site for a convent and later a prison, is now where locals come to buy fresh fruits and vegetables.Picnic Panes Artesanos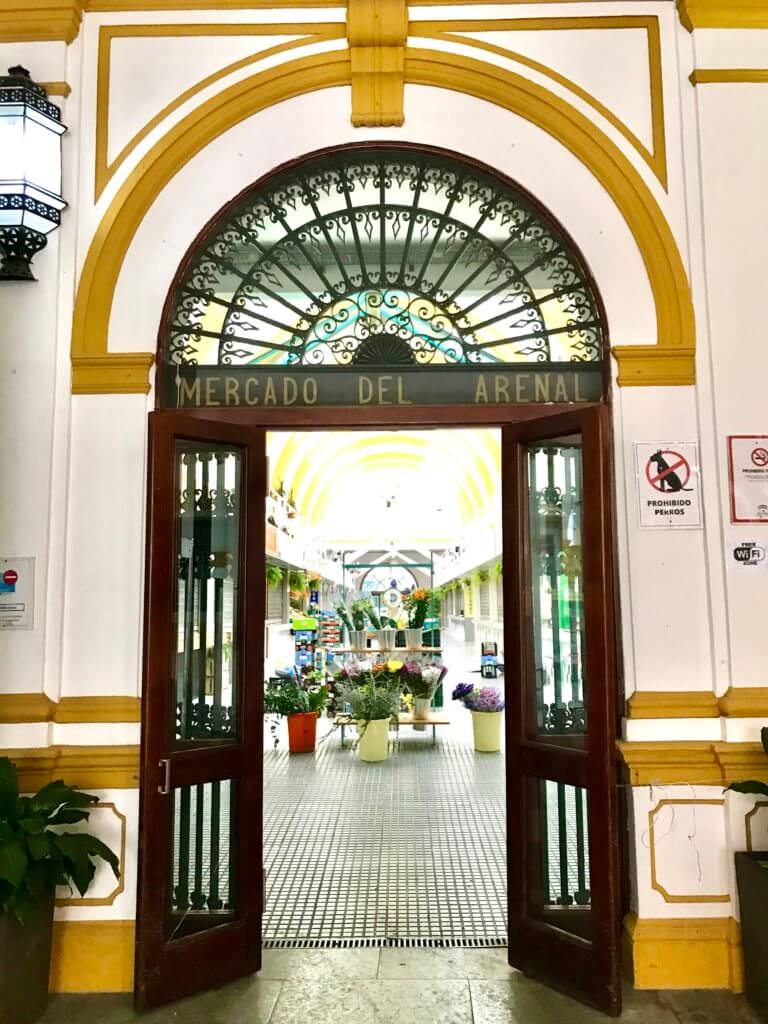 Right next to the Mercardo is
Picnic Panes Artesanos. If you are looking for artisan bread, this is the place to come to plus they bake delicious cakes ranging from Dulce de Leche alfajores, cinnamon rolls, apple cakes, cookies & magdalenasCasa Matias
Worth bookmarking and popping your head in to visit later, this historic tavern is one of my favourite places for a cold, cheap beer – plus from Tuesday to Sunday, they perform flamenco shows here.Casa MoralesBack in the day when sailors and merchants were flocking the streets of El Arenal it was common for the old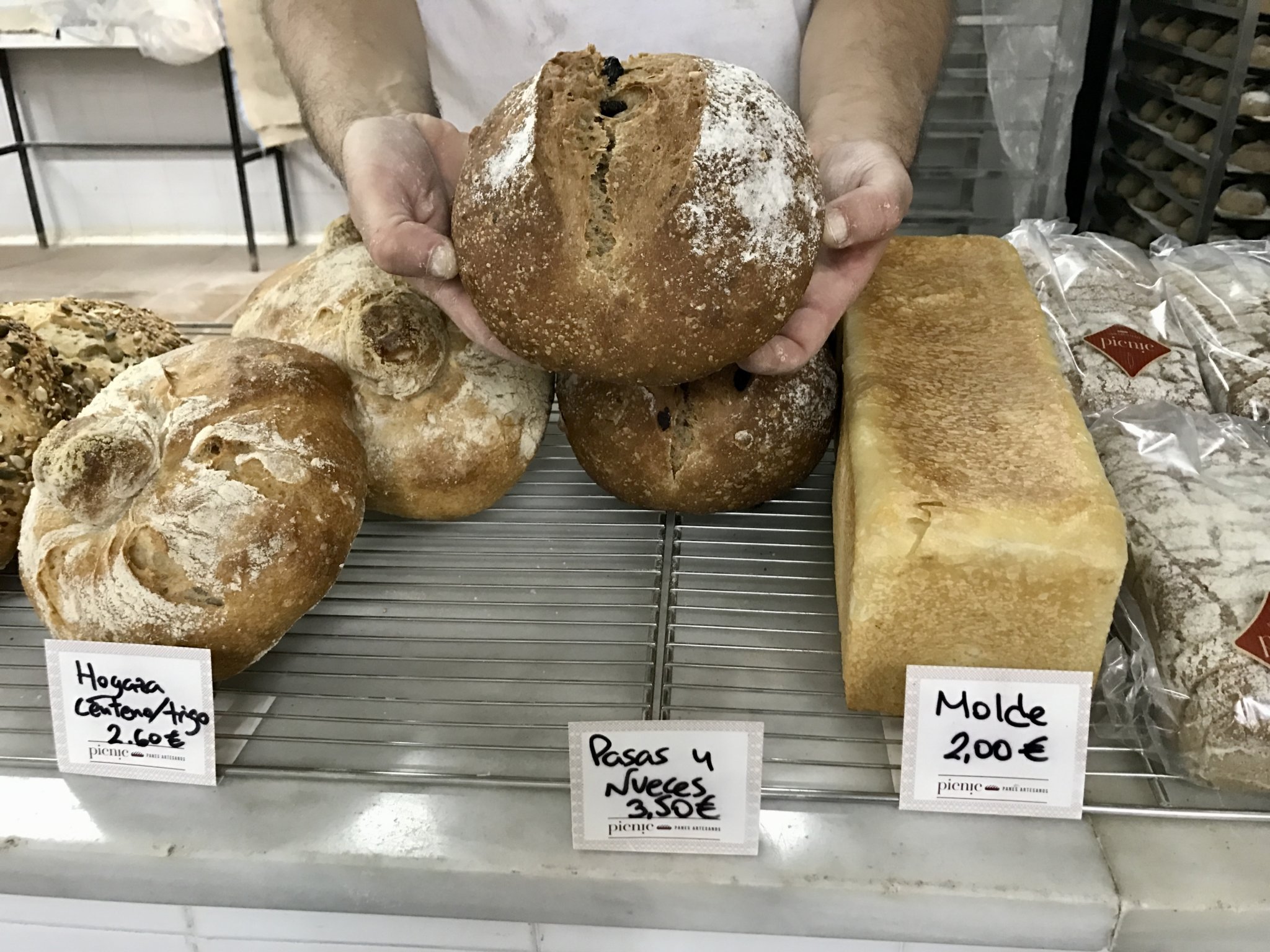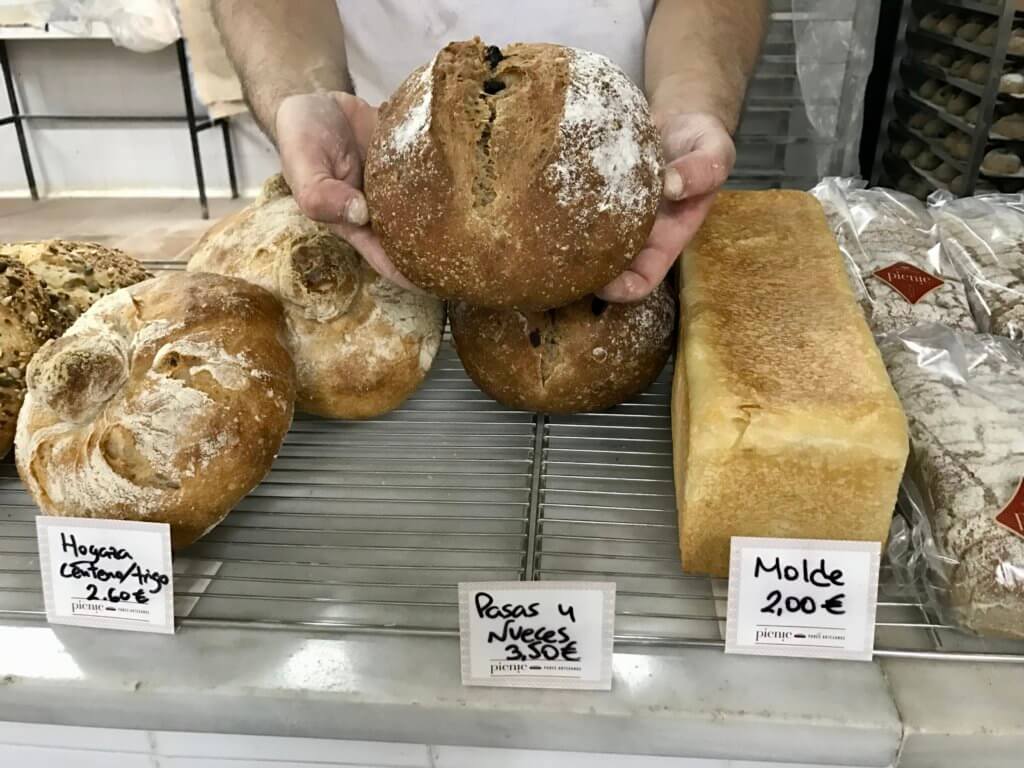 abacerias
– grocery stores to double up as bars. Few of those remain and one of the best existing examples is the historic Casa Morales which since 1850 has been quenching the thirst of locals with their chilled local sherry and beers, serving a delicious range of tapas dishes ranging from albondigas (meatballs) to sets (mushrooms), montaditos (small sandwiches) and the classic anchovies on toast with cheese.Keep your eye out for the hidden but beautiful Plaza del Cabildo in the heart of the city: Seville is filled with beautiful corners like this.Orange Wine at Taberna Perejil
Orange Wine at Taberna Perejil
Continuing the sweet theme, pop into
Taberna Perejil
where since 1904, they have been serving Vino de Naranja, famous local orange wine which comes from Moguer (a little town from Huelva). This sweet wine is great for an aperitif, or as a dessert wine. These are affordable at EUR1.20. The food is excellent. Try their delicious meatballs albondigas and the local classic Solomillo al Whisky (pork tenderloin in whisky sauce).The latter dish is one of the most authentic tapas dishes you can try in the city and tasted damn good here.Enjoy Carrillada at Antigua Abaceria de San Lorenzo
Another of the few remaining abaceria or bodegas in town, this tapas bar is a little bit off the beaten path but probably one of the best tapas restaurants in the city. Although the waitress and owner don't speak English, they were friendly and accommodating to my questions. We decided to try Carrillada, which is braised Iberian Pork Choeks. It's slow-cooked in the local fino (aka sherry) over low heat for at most a few hours. As you can see, this tender, delicious meat is perfect paired with roasted potatoes.
El Rinconcello is located close to the Iglesia Santa Catalina, Iglesia San Pedro and where Velazquez was baptized. It is the second oldest tapas bar in Spain, after the Botin-based in Madrid. The interiors date back to 1670. They have not changed much over the past 300 years. There are traditional Andalusian tiles on the walls, and the centrepiece, a carved wooden bar that holds the patrons. There are no seats and the bar is only open to standing. You will not receive receipts. Your bill is written by waiters on a chalkboard, which is then added up at end of session.
You can also try the famous Seville dish, espinacas with garbanzos. This dish is a summary of Seville's rich past. This dish is a tribute to Seville's rich history. My other favourite dish here is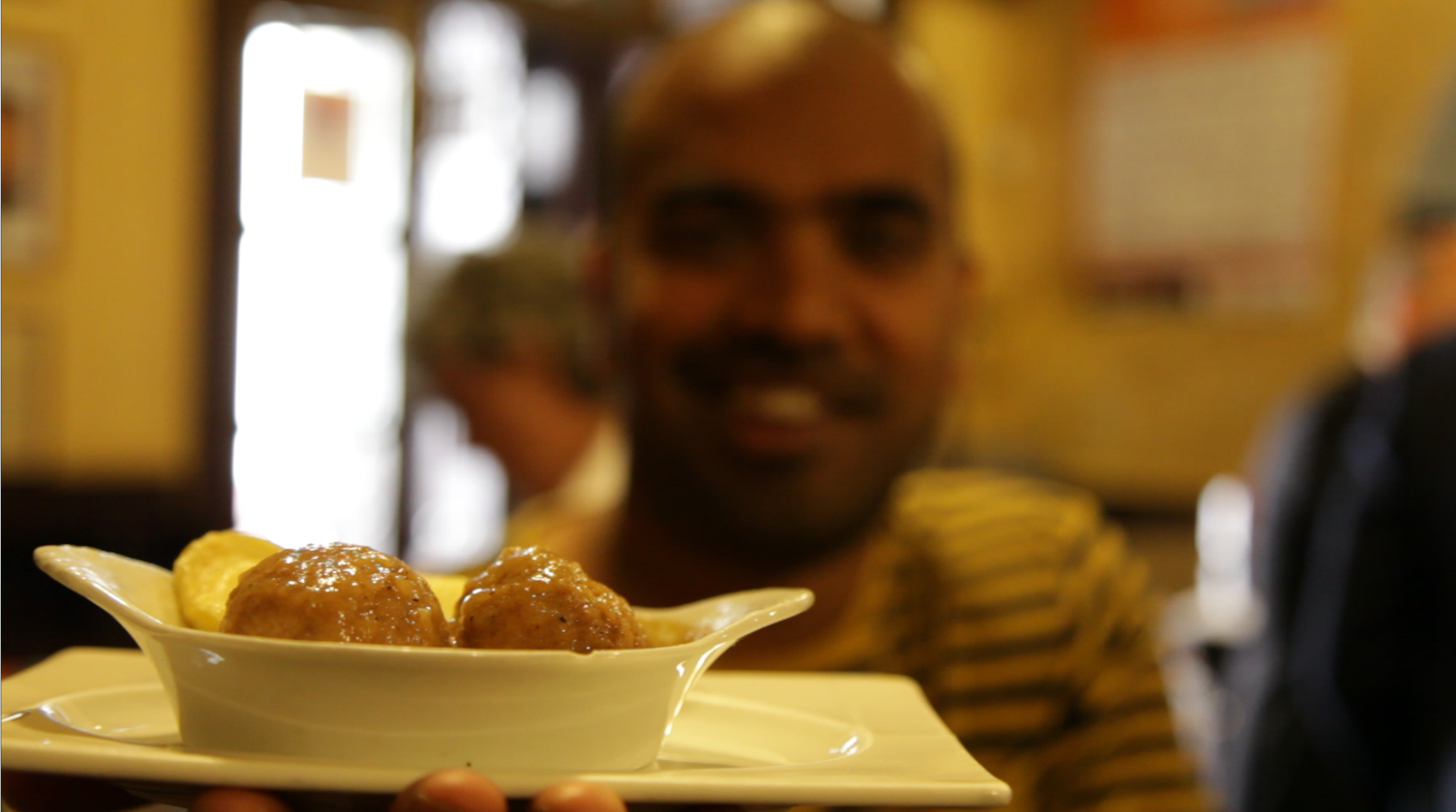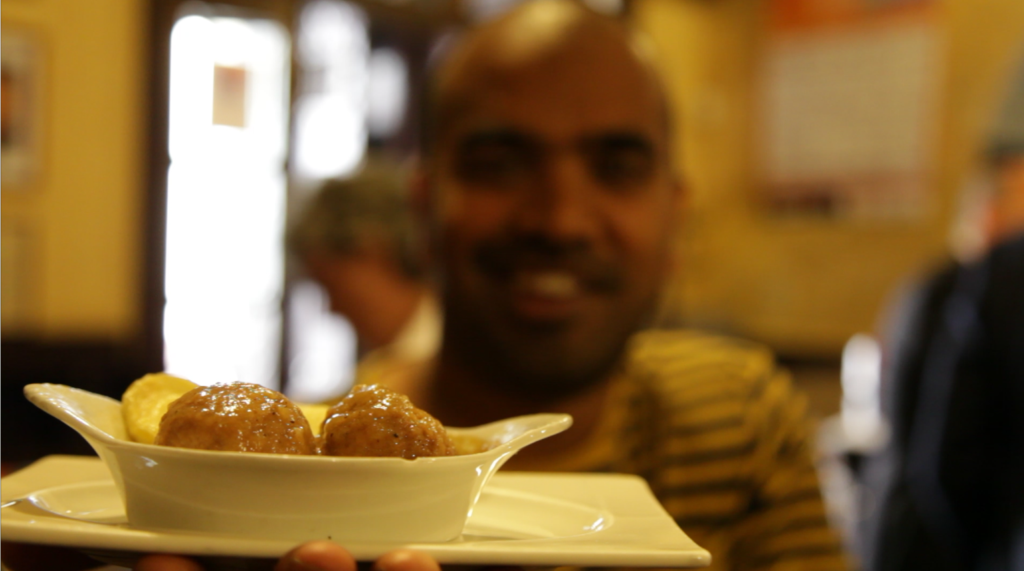 bacalau
aka cod in a tomato garlic sauce-heavenly stuff!
The selection of wines here is fantastic, with a special focus on Andalusian wines.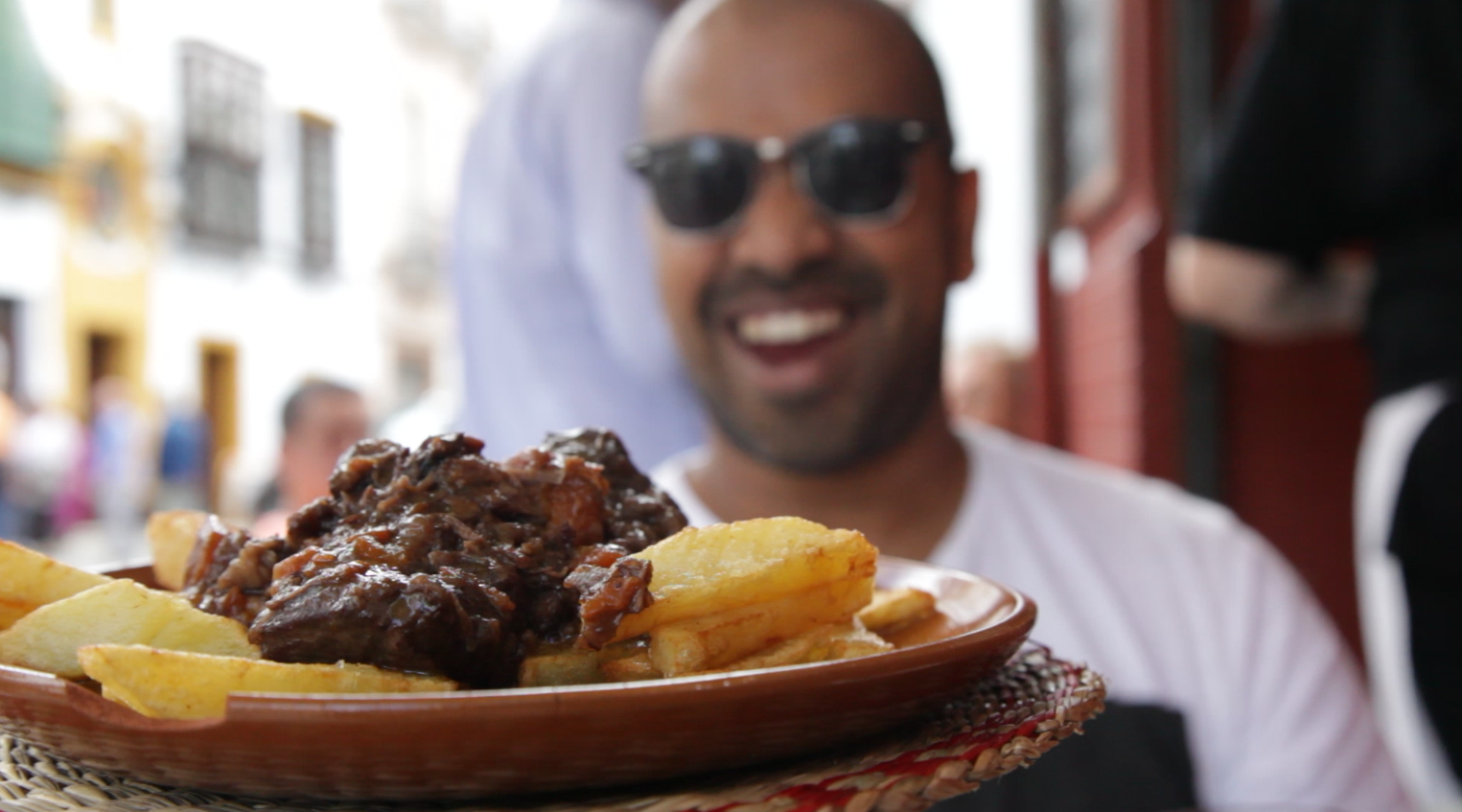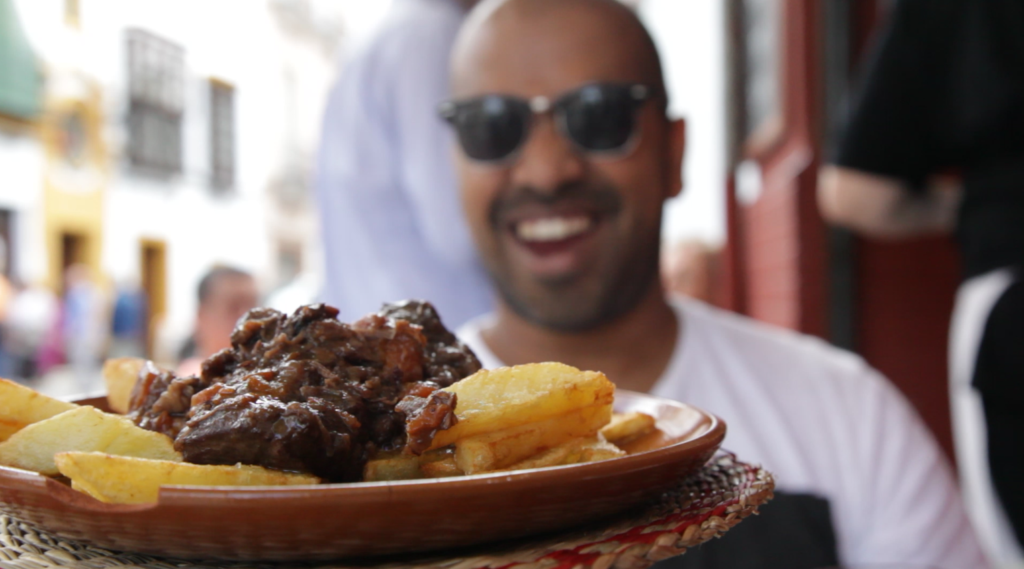 Casa Vizcaino
If you're looking for an authentic, local bar then this is as good as it gets in Seville. You will find yourself chatting with locals, and enjoying a cold draft beer at a price of EUR1.20 per glass. You can also find a variety of sherries and the famous orange wine. Drinks are served here with tasty olives and there are some special tapas dishes on the menu like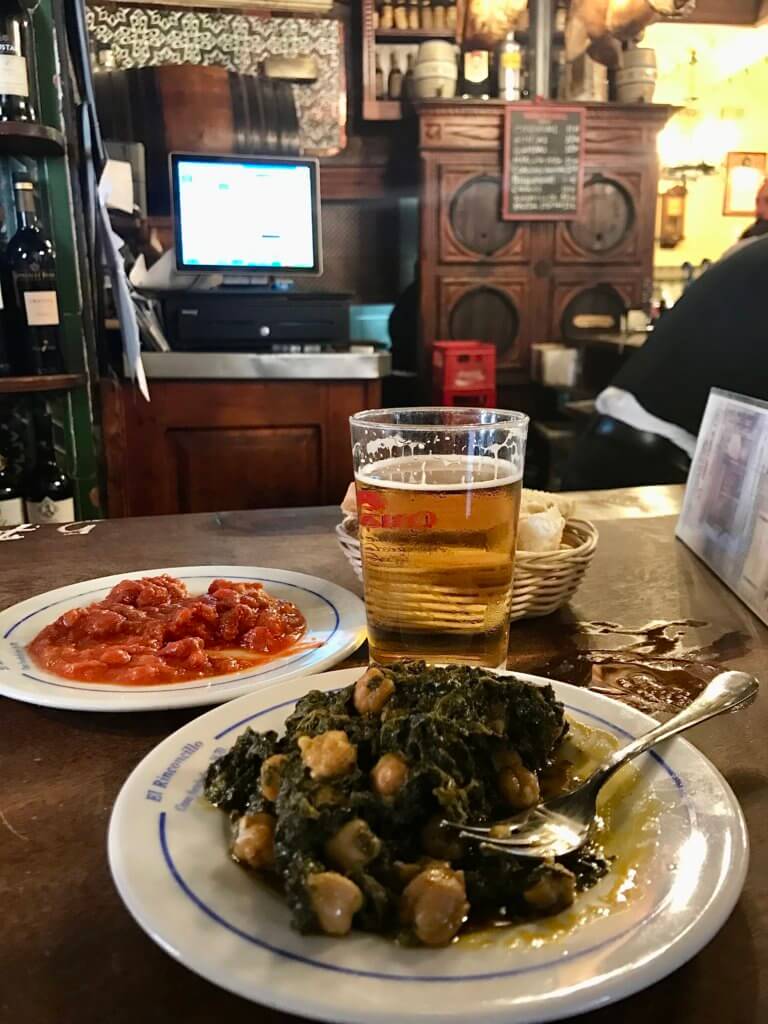 Mojama
, a Mediterranean delicacy salt-cured tuna, caviar and
Bacalao Saladisimo – salted cod.Try local craft ales like Zurda Golden Ale at La JeronimaIf you are still feeling thirsty, highly recommend a trip to La Jeronima where you are invited to 'read our beers and drink our books.' Part library stocking publications from local publishers and a menu featuring over 30 craft beers from across Andalusia-this is a real authentic slice of Seville. A bottle of Zurda Golden Ale is recommended if you're feeling thirsty on a hot day. Freskura
, near Alameda de Hercules could be in with a good shout for having the best ice cream in the city: try their lemon basil sorbet ( EUR2.50 ) ….or just a few hundred yards from the Mercado is

Heladeria Artesana La Fiorentina
, one of Seville's best gelaterias where you find a range of exotic and exciting flavours, many of which are original and unique to Seville. To get a true taste of Seville's sweetness, I recommend the orange blossom and "crema de Sevilla" ice creams. Their guides are energetic, passionate about food and have lots of ideas. I've been on their tours in Madrid and Barcelona. It's a great way of getting a feel for the history of the area. After the tours, they give out a sheet that includes tips on where to eat, drink, and see. Their tours are all about supporting locals. There are no corporates or food chains involved. By taking their tours you will be supporting the local economy. I won't give you the lowdown of where we visited but this food tour had it all: we ate a lot (come with an empty stomach) and the tour was filled with lots of nuggets of local history.Disclaimer: This post was produced with the kind support of the Spanish Tourist Office UK as part of their #SlowTravelSpain campaign. I am grateful for your support. Thank you.Like this:LikeLoading…